LEARNING SPACE WITH ALL-DAY SUPERVISION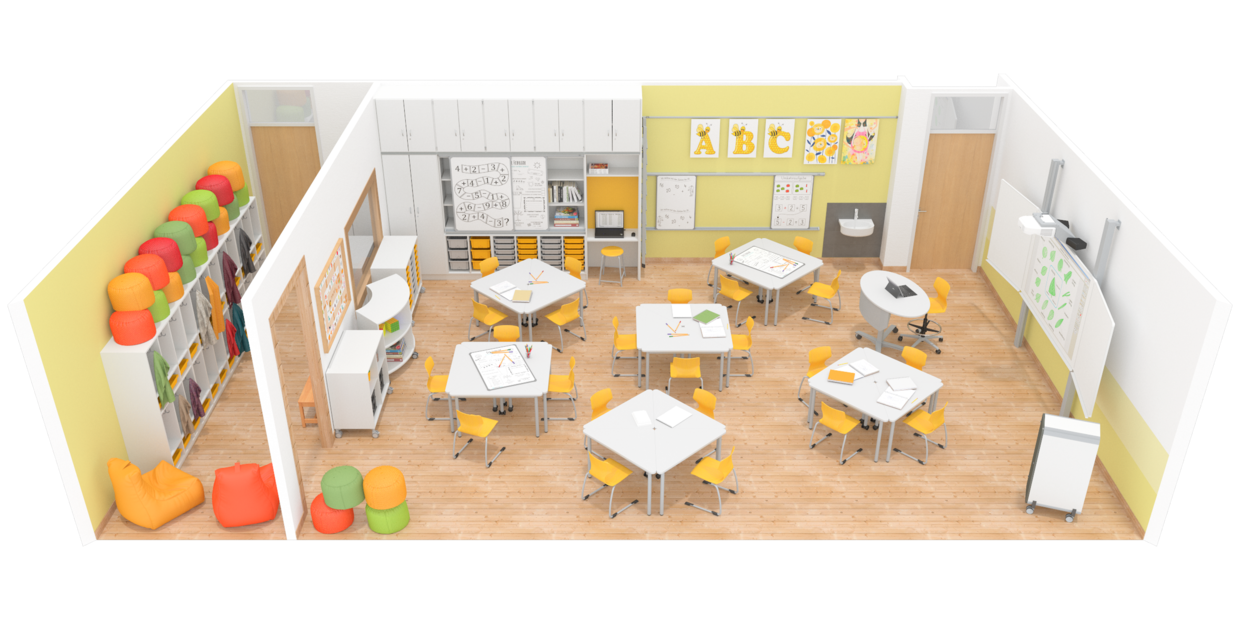 ALL-DAY CARE
THREE CORNERS FOR MORE MOBILITY.
Thanks to stackable triangular tables, this learning space can be transformed in the blink of an eye from a morning circle to group work to a more relaxed afternoon layout.
Cabinet walls with additional top cabinets use the entire height of the room and thus offer plenty of storage space.
A mobile drinks trolley ensures that afternoon snacks are always within reach, especially on long days.
The height-adjustable mono-column table with mobile caddy gives teachers a good overall view with maximum freedom of movement.
The elements of the multifunctional table system can be easily rearranged for group work, regardless of the number of learners.
INTEGRATED CUBBIES
JACKETS, BAGS AND SHOES DON'T HAVE TO STAY OUTSIDE.
With cubbies integrated into the room, coat hooks and tidy boxes provide the necessary order for school bags, jackets and shoes.
As a complement to the coat racks, we recommend benches for putting on and taking off shoes, which can also be used flexibly for other group activities.
The mobile cubbies can be used not only in the hallway but also in the learning room, as room dividers as well as storage.